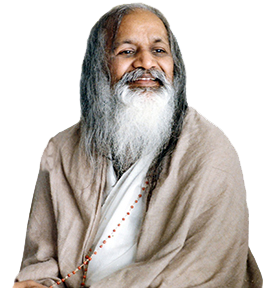 His Holiness Maharishi Mahesh Yogi Ji, the most dedicated disciple of his Master—Shri Guru Dev, Anant Shri Vibhushit Swami Brahmanand Saraswati Ji, Jagadguru Shankaracharya of Jyotishpeeth, Badrikashram, Himalayas - was widely regarded as the foremost scientist in the field of consciousness and he the greatest teacher in the world history.
About sixty-five years ago, Maharishi Ji's infinite love drew him out of silence in the Himalayas to relieve the world from suffering, to provide people joy and peace and to create Heaven on Earth. Having learned from his Master, Shri Guru Dev, Maharishi Ji completely revived the practical, ancient science of the Land of Vedas-India- that is capable of creating perfect life and guiding every individual on the path of Enlightenment.
Maharishi Ji completely restored the knowledge, technologies and programmes of Veda and the Vedic Literature - in their totality - and has organized this enormous wealth of Total Knowledge in to a complete science of consciousness. Maharishi's Vedic Science and Technology unfolds the full potential of Natural Law in human consciousness as the basis of improving all areas of life. Transcendental Meditation (TM), a core subjective technology of Maharishi's Vedic Science and Technology, is the most widely practiced and extensively researched programme of self-development in the world.
Over fifty years of untiring work, Maharishi Ji has established a worldwide movement in over 100 countries offering there the knowledge and practical programmes of Maharishi Vedic Science in all areas of life. Maharishi Ji has founded thousands of organizations and institutions to bring the light of Vedic wisdom throughout the world. These organizations and institutions include: Maharishi Vedic Universities, Maharishi Ayurveda Universities, Maharishi Universities of Management and Technology, Vedic Vidyapeeth, Higher Secondary Schools, Colleges, Institutes, Maharishi Vedic Approach to Health Care centres, Maharishi Sthapatya Vedic centres, and Transcendental Meditation centres. Maharishi educational institutions offer consciousness-based courses based on this total Vedic knowledge -Maharishi Vedic Science (knowledge of Atma) to train people in gaining mastery over Natural Law. By offering these courses, Maharishi designed a system to perpetuate life in accordance with Natural Law—perfection in every life and profession-and create Natural Law based problem-free government in every country-governments with the ability to prevent problems.
In India also Maharishi Ji has established large number of schools, 3 universities, management institutes, colleges, Vedic Vidyapeeth, Yog and TM centres and Ayurvedic hospitals/clinics.
Millions of people in all parts of the world and from all walks of life practice Maharishi's Transcendental Meditation. Approximately 6,55,000 people have learnt Maharishi's TM-Siddhi Programme and are practicing 'Yogic Flying'. About 48,000 teachers of the Transcendental Meditation have been trained so far and more are continuing to be trained.
On 12 January 2006 Maharishi Ji has inaugurated Global Capital of World Peace at Geographical Centre of India— Brahmsthan of India. Now the first group of 9000 peace creators-practitioners of TM, TM-Siddhi programme and Yogic Flying is being established at Brahmasthan.
Maharishi Ved Vigyan Vishwa Vidyapeetham Trust, Maharishi World Peace Society and SRM Foundation of India together have come forward to create the group of 9000 peace creators.