His Holiness Maharishi Mahesh Yogi
Transcendental Meditation
Advance Programmes and Peace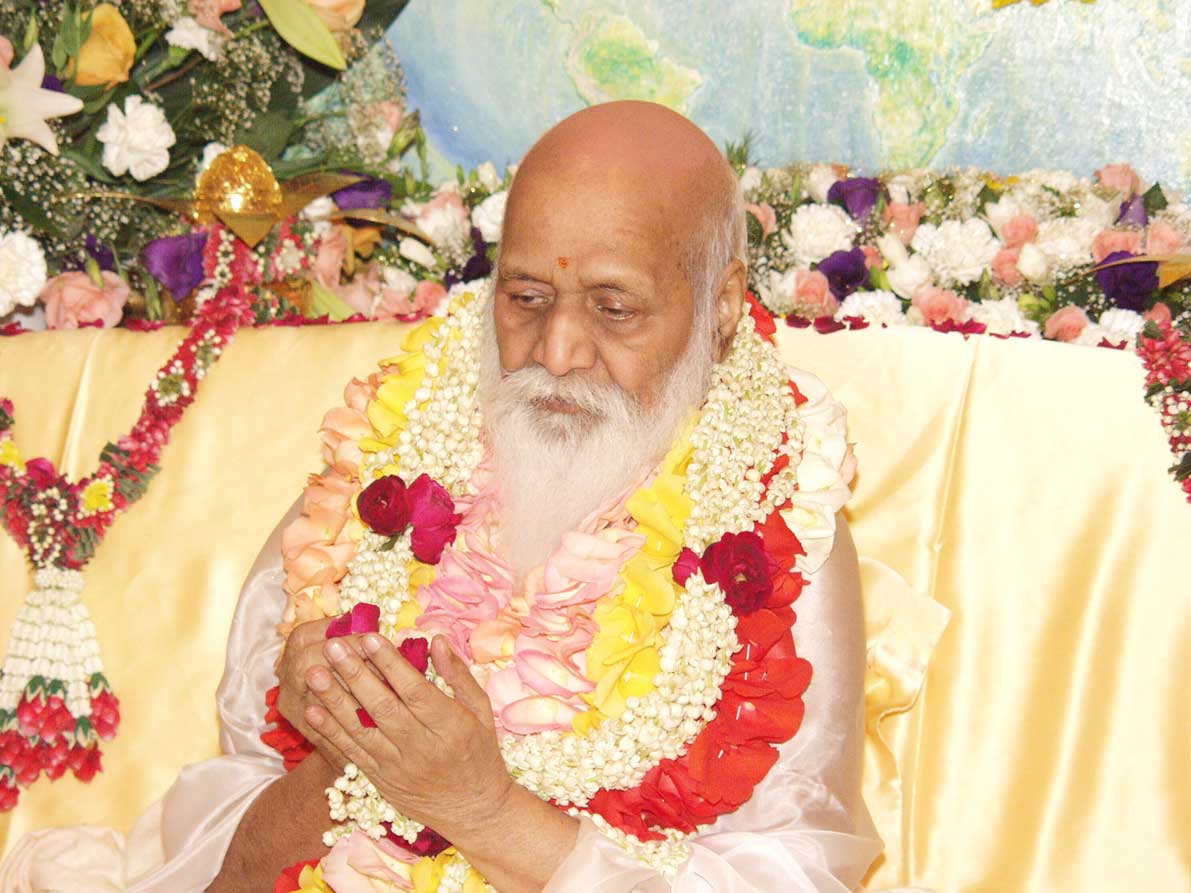 His Holiness Maharishi Mahesh Yogi Ji, the most dedicated disciple to his Master—Shri Guru Dev Anant Shri Vibhushit Swami Brahmanand Saraswati Ji, Jagadguru Shankaracharya of Jyotishpeeth, Badrikashram, Himalayas was widely regarded as the Foremost Scientist in the field of consciousness, and is established to be the greatest teacher in the world history.
About sixty five years ago, Maharishi Ji's infinite love drew him out of isolation in the Himalayas to relieve the world from suffering, to provide people joy and peace and to create Heaven on Earth. Having learned from his Master—Shri Guru Dev, Maharishi Ji completely revived the practical, ancient science of the Land of Vedas-India that is capable of creating perfect life and guiding individual to the path of Enlightenment.
Maharishi Ji has completely restored thousands of years old scattered Vedic Literature for the total significance of its theory and practice and has organized it in the form of a complete science of consciousness. Maharishi's Vedic Science and Technology unfolds the full potential of Natural Law in human consciousness as the basis of improving all areas of life. The Transcendental Meditation (TM), the subjective technology of Maharishi's Vedic Science and Technology is the most widely practiced and extensively researched programme of self-development in the world.
Over fifty years of untiring work, Maharishi Ji has established a worldwide movement in over 100 countries offering the knowledge and practical programmes of Maharishi Vedic Science in all areas of life. Maharishi Ji has founded thousands of organizations and institutions to bring the light of Vedic wisdom throughout the world. These organizations and institutions include: Maharishi Vedic Universities, Maharishi Ayurveda Universities, Maharishi Universities of Management and Technology, Vedic Vidyapeeth, Higher Secondary Schools, Colleges, Institutes, Maharishi Vedic Approach to Health Care centres and Transcendental Meditation centres. Maharishi educational institutions offer courses based on Vedic knowledge of life-Maharishi Vedic Science-knowledge of the Atma-Consciousness to train people in gaining mastery over Laws of Nature and to perpetuate life in accordance with Natural Law—perfection in every profession—and create Natural Law based problem-free government in every country—governments with the ability to prevent problems.
Millions of people in all parts of the world and from all walks of life practice Maharishi's Transcendental Meditation. In addition, approximately 6,55,000 people have learnt Maharishi's TM-Siddhi Programme and are practicing 'Yogic Flying'. About 48,000 teachers of the Transcendental Meditation have been trained so far and more are continuing to be trained.
In October 2000 Maharishi Ji has established the Global Country of World Peace-Maharishi Vishwa Shanti Rashtra, a country without borders to bring the nourishing support of Natural Law to every government and every individual on earth. The establishment of the Global Country of World Peace will lead the administrative quality of every government and every individual in direction of perfection, so that they function at par with the absolute administration of the universe, the Government of Nature, which is universally nourishing to all life.
Maharishi Ji had also planned establishment of 3000 Peace Palaces-Capitals of Global Administration through Natural Law-Capitals of Maharishi Vedic Vishwa Prashasan?Vishwa Vyapi Raam Rajya in major cities of 108 countries.
On 12 January 2006 Maharishi Ji has inaugurated Global Capital of World Peace at Geographical Centre of India—Brahmsthan of India, where 18,000 Vedic Pundits will practice Yog and will perform Yagyas with the sankalpa of happiness, holistic education, perfect health, abundance of wealth, world peace and invincibility to every individual and nation. At the beginning of 2007 Maharishi Ji had planned 48 Brahmanand Saraswati Nagar in 48 cities of India and also has planned 48 Towers of Invincibility in 48 countries.
On 12 January 2007 Maharishi Ji has established Brahmsthan of India as the World Capital of Vedic Vishwa Prashasan—Vishwa Vyapi Ram Rajya-the silent seat of the administration through Natural Law. Maharishi Ji has appointed Brahmachari Girish Ji as Director General for both the Capitals.
In India Maharishi Ji has founded hundreds of educational institutions, which are imparting Vedic education to over 2,00,000 students and offering Consciousness based Education as essential part of school, college and university curriculum.
With the theory and practical programmes given by Maharishi Ji, it is now possible to prevent hardship, problems, differences, disputes, wars and ensure peace in the society and in the world. Maharishi Ji's principles are based on scientifically validated approach to create and maintain world peace. These programmes provide theoretical understanding, and at the same time provide practical methodology that has already been demonstrated to work and is now being applied on a global scale.