Maharishi Vedic Holy Tradition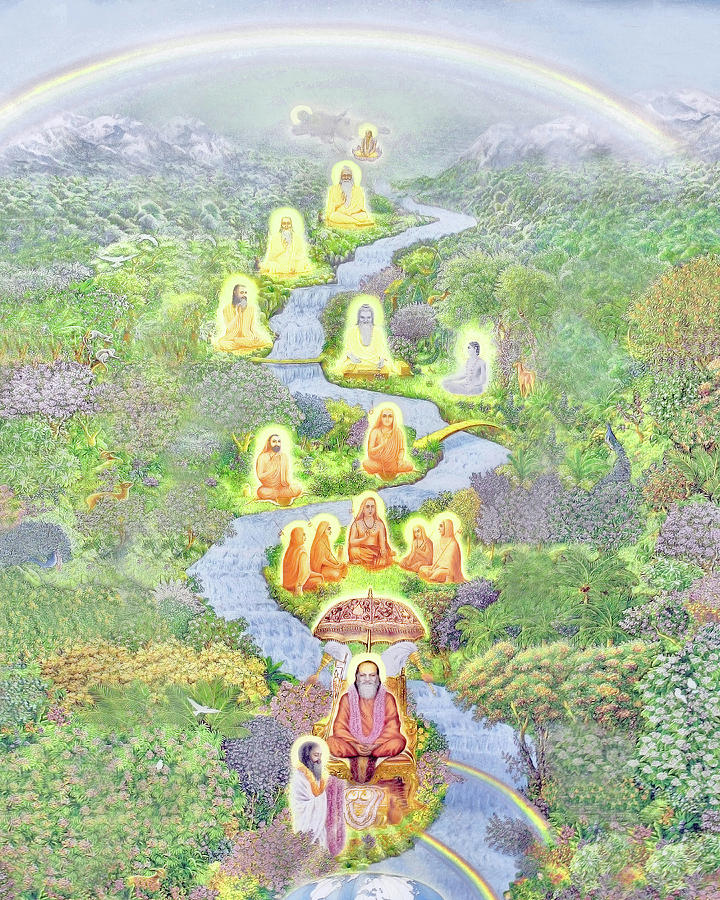 The Holy Tradition, the custodians of the eternal wisdom of the integration of life, stands as the basis of revivals of purity, progress, prosperity, peace and depth of understanding of life. From time to time, these revivals emerge to set mankind back on the path of evolution; to save it from suffering and to reawaken the natural birth right for all live meaningful lives.
The Masters of the Holy Tradition have been the exponents of this most profound knowledge and practical programmes, from times immemorial. They offer the guidance of the eternal truths of the Divine possibility of daily life, which would guide man to successful life in fulfilment, generation after generation. All the teaching is carried out in the name of these great Masters and on their behalf.
Our Holy Tradition starts from Lord Narayan, to lotus-born Brahma the Creator, to Brahmarishi Vashistha, to Maharishi Shakti and his son Maharishi Parashar, to Ved Vyasa, to Shukadeva, to the great Gaudapadacharya, to Govindacharya, to Shri Adi-Shankaracharya to Padam Padacharya, Hasta-Malakam, to Trotakacharya to Vartik-kar. His Holiness Maharishi Mahesh Yogi Ji is the illustrious representative of Holy Tradtion in our generation.
As per tradition of Maharishi Global Organisation, all activities start only after invocation and prayer of Vedic Holy Tradition.